Rising Stakes in the Western Pacific:

Countering China's Territorial Ambitions
Date and Time
 (Online Event)
Wednesday, February 3, 2021
Tokyo: 22:00-23:30 (JST)
Manila: 21:00-22:30(PST)
London: 14:00-15:30(GMT)
Washington, DC: 08:00-09:30(EST)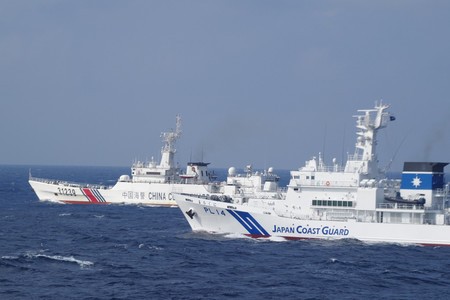 The Research Institute for Peace and Security (RIPS) is pleased to host this webinar that will discuss in-depth the current security situation in the Western Pacific. China's unabated ambitions in the region grow ever larger, which has a direct and profound adverse influence upon regional stability. Chinese military vessels and fishing boats illegally encroach the territorial waters around Senkaku islands on a near daily basis, posing a serious menace to Japan. But the actions by the Chinese also present a clear and present danger to Vietnamese and Philippine maritime activities in the South China Sea as well. Such aggressive Chinese actions unquestionably threaten the vital sea lines of communication (SLOC) in East Asia. With this as the backdrop, this webinar will seek to explain what Beijing's grand strategic objectives in the maritime realm are as well as what the implications are for the other nations of the region. More importantly, the webinar will seek to address what we can do to counter this fundamental threat to our core values.
    Four prominent China experts from Japan, the Philippines, United Kingdom, and the United States will discuss China's motives and ambitions. These experts are, in order of speaking appearance, Professor Yasuhiro Matsuda of Institute for Advanced Studies on Asia, The University of Tokyo, Professor Renato De Castro of the De La Salle University in Manila, Dr. Alessio Patalano of the King's College London, and Ms. Bonnie Glaser of the Center for Strategic and International Studies in Washington DC. Professor Tosh Minohara of Kobe University and Chairman of the Research Institute of Indo-Pacific Affairs (RIIPA) will moderate this session.
    All those interested in the topic are cordially invited to attend by registering for free:

Webinar Schedule: (JST)
22:00 Greetings by Masashi Nishihara, President of RIPS (3 minutes)
22:03 Introductory Remarks by the moderator, Dr. Minohara (5 minutes)
22:10 Presentations by the four experts (60 minutes, 10 minutes each)
23:10 Discussion among the presenters (40 minutes)
23:28 Closing remarks (RIPS President)